Multi-support shoes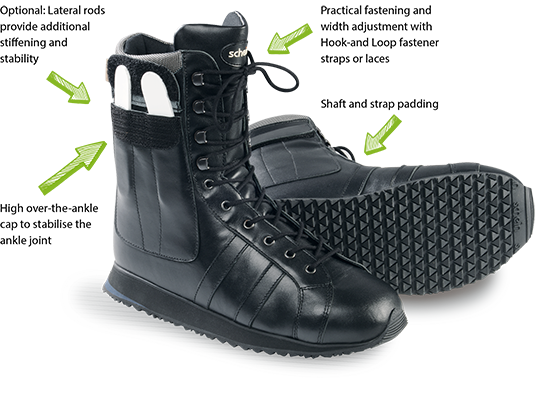 The multi-support shoe has an even more raised upper than the my generation support shoe, plus a sturdy arthrodesis cap. This area can be further reinforced through the use of mouldable thermoplastic support strips on the inside and outside. These stiffening strips are available in two strengths: strong (white) and medium (skin-coloured). The shoe comes with four white strips. These provide even more lateral and rotational stability in the ankle joint area without hampering the natural rolling of the foot. The integrated rocker bar makes walking easier.
As with our other therapeutic shoes, individual shoe adjustments can be made with these models too.
The applications for the multi-support shoe include the ongoing treatment of ankle joint capsular ligament injuries which originally received conservative or surgical treatment, as well as capsular ligament insufficiency and Achilles tendon injuries. It is also suitable for immobilising the tarsal and mid-foot regions and for the ongoing treatment of fractures and arthrodesis.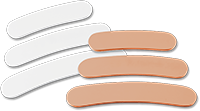 041910002
Size 36–39
041911002
Size 36–39
041910-003
Size 40–44
041911003
Size 40–44
041910004
Size 45–47
041911004
Size 45–47
One set contains eight white support strips
One set contains eight skin-coloured support strips